The Tapuah family live in Buipe, on the border of Brong Afaho and Northern Region in Ghana.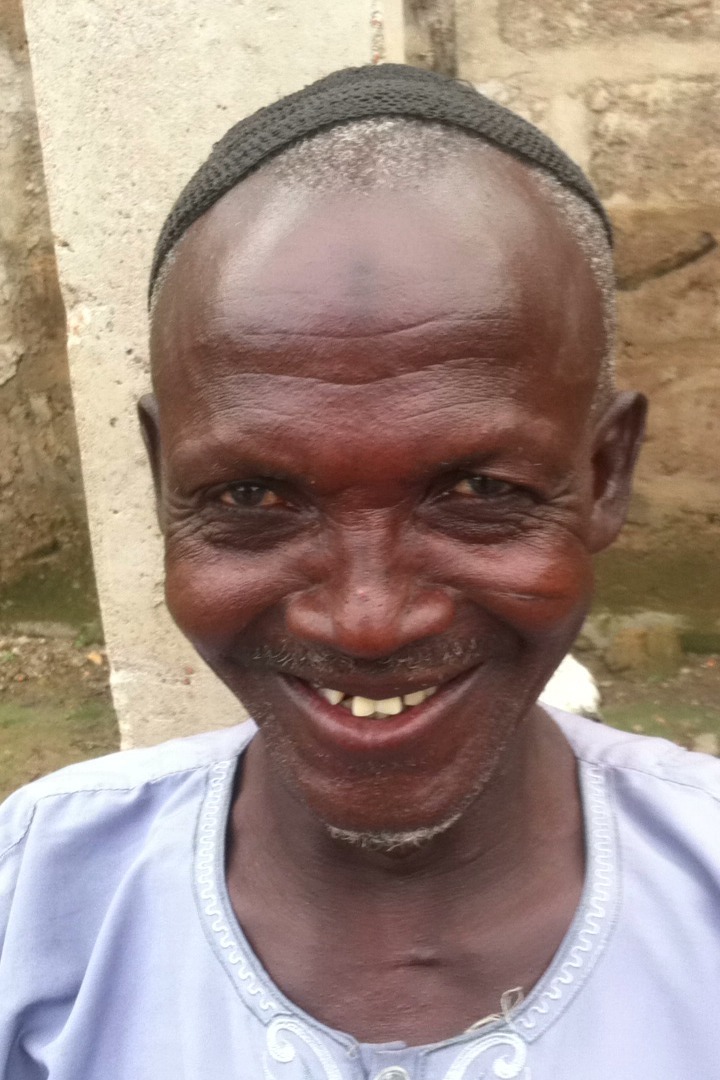 Adamou is the eldest within the compound, however he is outranked by his eldest sister who lives in the nearby Village. He will travel to her to discuss important family issues.
As an elder in the village Adamou has the ear of the chief who is a distant uncle of Adamou. He is also involved in local politics and he collects the dues and campaigns for the NDC. In this position he is often called upon to air his opinion on local concerns.
Adamou is a farmer and he farms for the majority of the year. Adamou farms corn, various fruits and vegetables and livestock. This includes his prize guinea fowls which he is very proud of. He spreads risk for his family by growing lots of crops, so they can take advantage of good rains, and weather the bad ones. His life is much like his fathers and his fathers before that.
However, he now uses a motorcycle to reach his farm and to transport some of the produce. In addition, he has a water pump to take water from the black Volta to his farm, this irrigation system is enabling him to double crop some vegetables.
Just before the rain and at the beginning of the rains it is harder in the north of Ghana. Nothing has yet had the chance to grow and yet it is hard to keep the humidity and moisture off stored crops. This can mean that the remaining stored corn can become mildewed and spoil.
As this time Adamou plants his fields and then leaves the village to canoe upriver and wait for the flood waters – these waters are teaming with fish that his family needs to survive the hungry season. However, the floods can also be incredibly dangerous.  Adamou will net and surf this wave to catch fish. It is dangerous but the hauls of fish are huge as they are pushed down by the flood tidal wave in the river.
Now Adamu is older more farming responsibility falls to his children. Kwaku, Countryman's eldest son, now  helps Adamu on the farm and with the fishing. This leave Adamou more time to play with his grandchildren.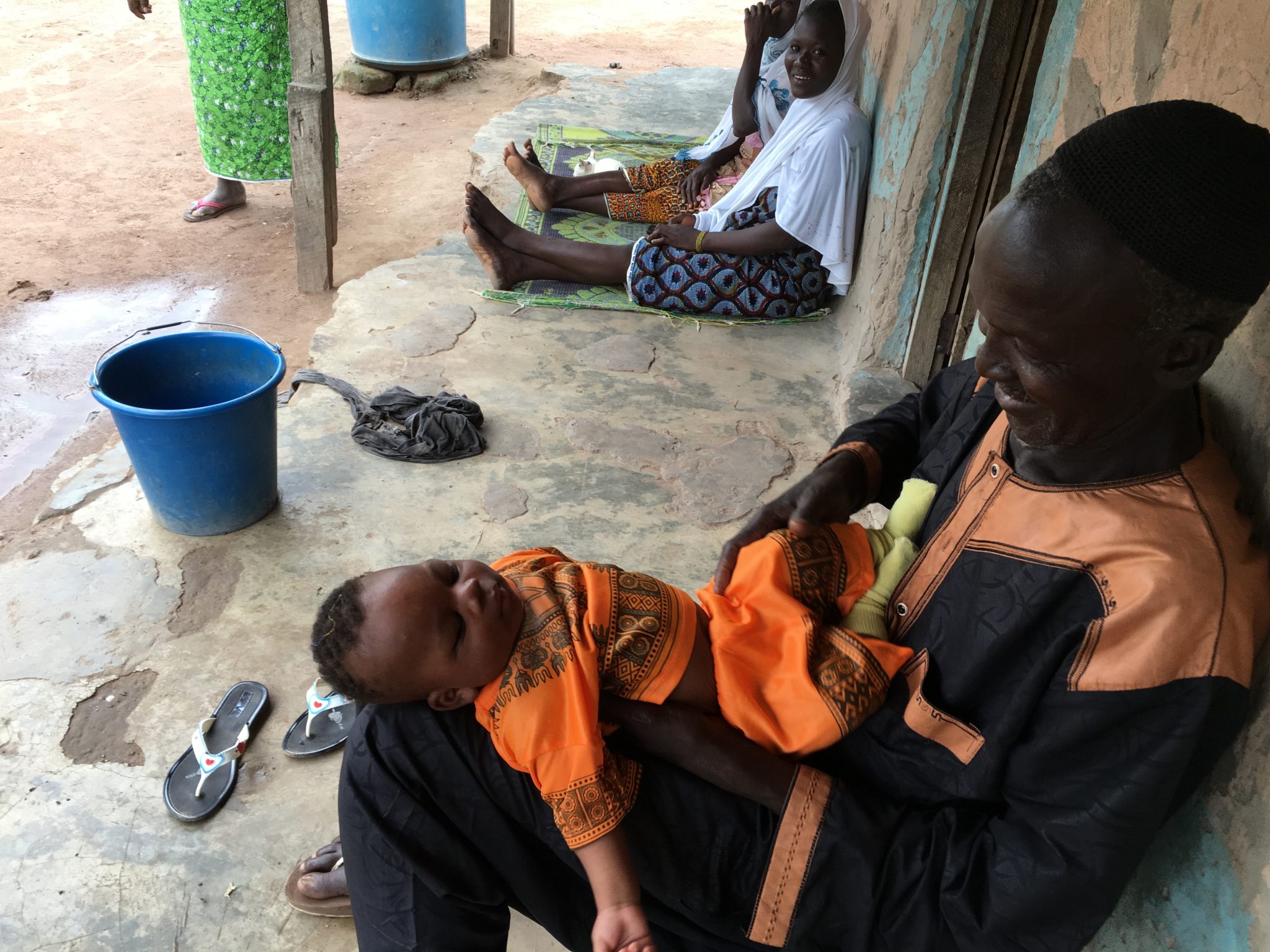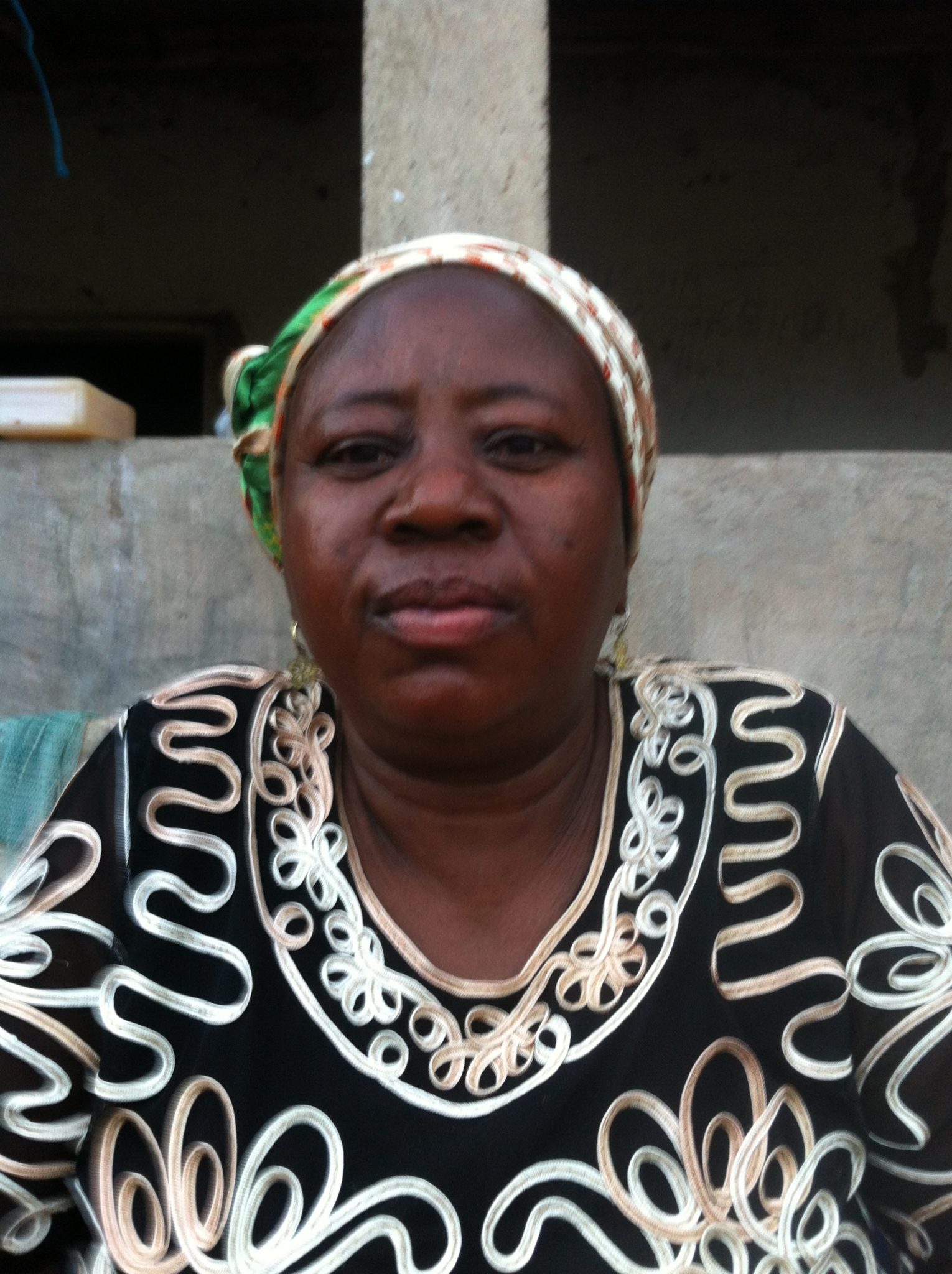 Fatima is Adamou's wife and together they have had 9 children, of whom 6 are now living.
Adamou lives in a compound house with his wife, his youngest children and his youngest brother Countryman. Countryman's son also lives with them as does his ex wife's daughter.
Adamou and Fatima know that education is important to provide their children with choices. Although they are both illiterate. Fatima sells smoked fish at the weekly market in Buipe, she has used this money to help send the children to school. Fatima has invested her money wisely and she has two family houses that she rents out to supplement her income. Gonga couples traditionally have separate money, Adamou is very proud of his wife's wealth, but he does not spend it.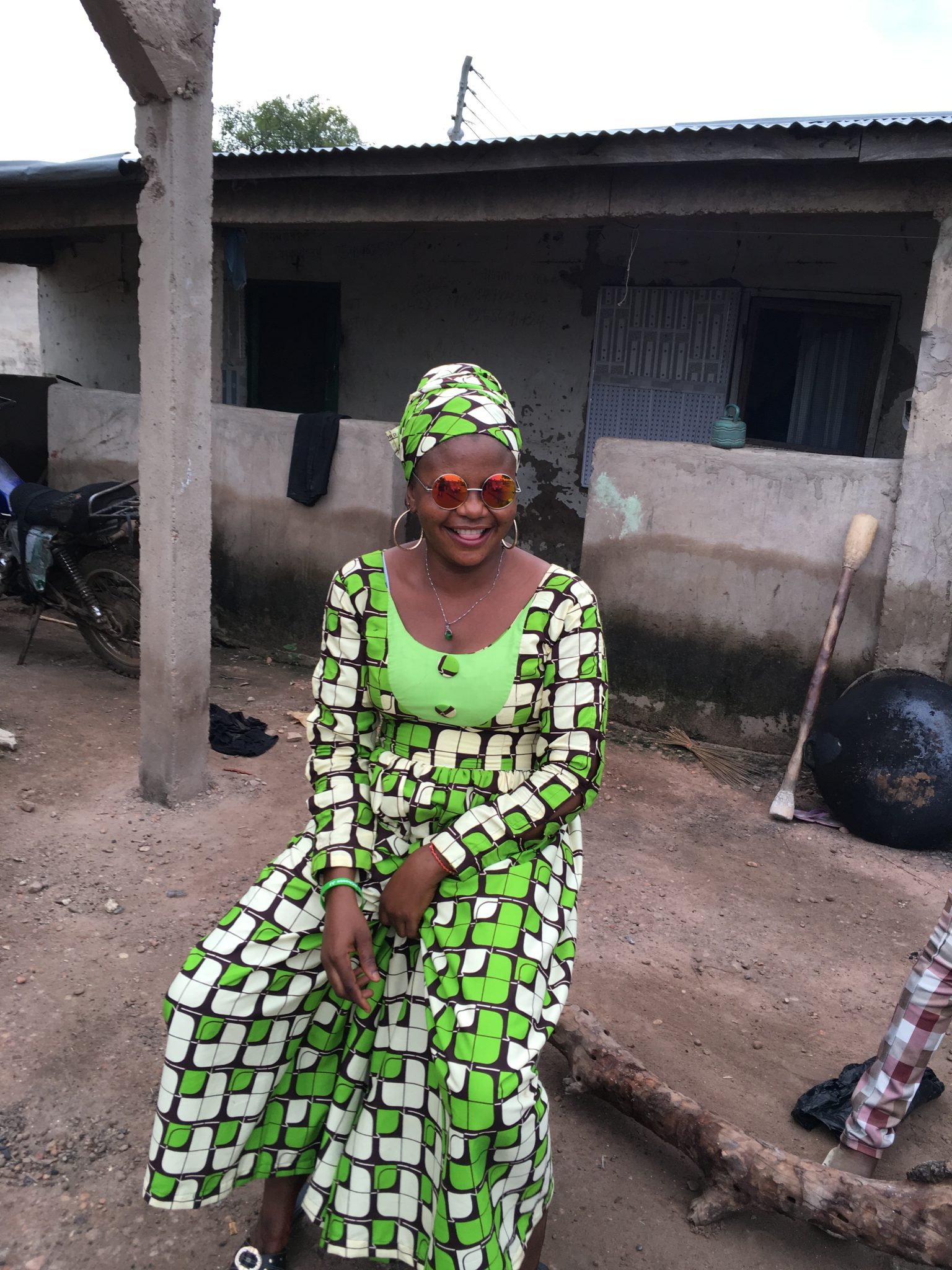 Houma is the eldest daughter. Houma is a nurse, she works in Damango hospital in the accident and emergency department. The department is under staffed and underfunded.
Houma's husband is a doctor and they met at medical school, they are expecting their second baby. Their first son Walu lives with Adamou, Fatimah and the family.
The baby will go to work with her whilst it is being breast fed and can be swaddled on her back. As the baby grows it will be harder to take her to work, the child is likely to live with Fatima when she is 2, at which point she will start school. Many women are able to take their children to work with them in Ghana and the extended family often shares the responsibility of raising the children, lightening the load.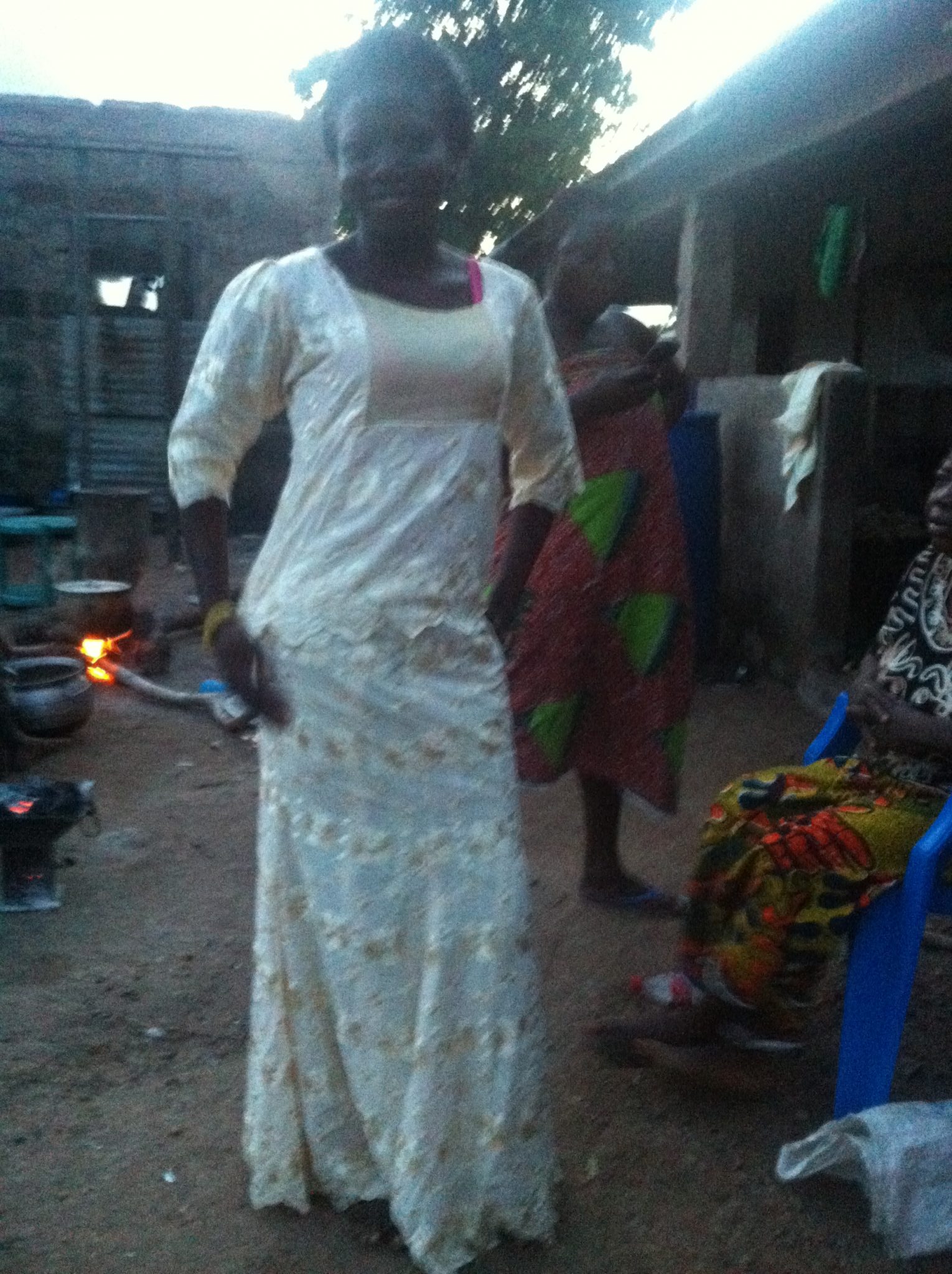 Iqamah is currently studying to become an accountant. Many men have asked to marry Iqamah, it began when she was about 12. Some of these men are very powerful in the village and Adamou and Fatimah have had to work hard to allow her to fulfil her dreams. They do not need the bride price but many other persuasive tactics have been used. In Ghana 5% of girls are married by the time they are 15 years old.  However while child marriage is still common it is changing 1 in 5 young women in Ghana today were married before 18, compared to 1 in 3 in the early 1990s.
[youtube https://www.youtube.com/watch?v=pSczXmPu3_c?rel=0]
Rashida is stirring the banku in this image. She does a lot of the cooking and is studying hairdressing with her Madame in the local market. This job enables her to work and earn money immediately.  She has a son Samu to care for and so she does not have the luxury of studying like her sisters
She hopes one day to run a salon which would provide a regular income for her and her son. Rashida is in charge of the kitchen in the house and she spends much of the day preparing the families food. This was previously done by  her elder sister. In this way everyone takes a turn in serving the family.
[youtube https://www.youtube.com/watch?v=rUURdgehC80?rel=0]
Kofi hated school. He would try to avoid it at every opportunity. It caused a lot of sadness in the house for a long time as it was so difficult for Countryman and Adamou to see him turn down the opportunity.
Now Kofi and Adamou are very close. They fish and farm together, something they both really enjoy. Adamou is very proud of Kofi's fishing and hunting abilities.
The boat they currently use has lost its front entirely. It happened in the last floods when they were fishing the wave together. Adamou and Kofi both think their boat is very funny and they love how absurd it is! They crouch at the stern to raise the bow out of the water. Kwaku bails and paddles at the same time. Despite the laughter they know they need a new boat to fish the floods this year.


Walu, Harriatu and Samu are the youngest children in the family. They are raised as brothers and sisters and consider themselves to be so. In fact Walu is Houmu's child and Samu is Rashidah's. Harriatu is the daughter of Countryman's and his ex wife.
Samu goes to school near the house. He enjoys it and works hard. He often teases Walu as he has yet to start school. Samu helps with  is Rashidah's child. the cooking, washing up and with some farming.
Walu is cheeky, very cute and is known to have a temper. He is Houmu's daughter. When people are behaving inappropriately someone will cry "Walu will beat you". Everyone then falls about laughing as he is so small. Walu helps in the kitchen and enjoys farming, he is good at catching Adamu's guinea fowl to come in for the evening.
Harriatu works very hard, mainly in the kitchen. She preps all the vegetables and does the washing up. She goes to the local primary school where she works hard and is well liked by the school teachers. She is Countryman's daughter, she was previously living in Tamale with her mother. Life in the city is hard and Adamou travelled to collect her to ensure she would be well fed and able to attend school.
[youtube https://www.youtube.com/watch?v=Hj5VzmodYCg?rel=0]
[youtube https://www.youtube.com/watch?v=8ciMbHgaH5s?rel=0]
In this video you can see a couple of hawkers. They can sell water and ice creams by taking them as a 'loan' at the beginning of the day. It is a great way to get money when you have none to start with,  the seller and the loaner then share the profit. However sometimes the loaner may not pay the child who has sold the goods and the work is very dangerous, especially selling at the traffic lights.