African Activities were pleased to provide a band led drumming workshop during the annual party in the park event at Marwell Zoo.
Despite the rain we were able to entertain hundreds of visitors during the evenings events.
We have been pleased to return often, and have adapted to drumming inside and using the more mellow Kora and Balafon outside in case the drumming disturbs the Rhinos!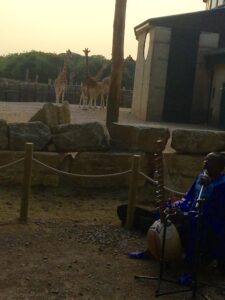 The subtle and hypnotic Kora played to guests and giraffes for the BIAZA 50th anniversary annual conference!
[videopress OgQ64ipv]
Band led drum workshop at Marwell Wildlife park sunset in the park event.